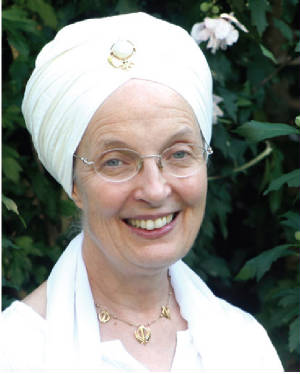 Siri Sevak Kaur Khalsa
Siri Sevak Kaur teaches Gurmukhi classes and Japji classes for Soul Answer University. She has been studying Gurmukhi and Japji since the early 70s when she was part of the first group of Yogi Bhajans students to do that. She has pursued and shared this learning ever since. Teleclasses with Soul Answer University have opened up her ability to reach people across the country and around the world.

In these teleclasses Siri Sevak Kaur teaches with Bhai Satnam Singh, a native Punjabi speaker who lives and serves at Guru Ram Das Gurdwara in Millis, MA. They have been pleased with the high standard of pronunciation that their joint efforts have been able to coax from students.

Siri Sevak Kaur has studied classical Gurbani Kirtan with Bhai Baldeep Singh of Delhi, the great nephew of Bhai Avtar Singh, since 1998. She and Harbhajan Kaur, a fellow student, sing together regularly in the Gurdwara in Millis and teach kirtan together at Solstices. Siri Sevak Kaur has three beautiful hand-made instruments of the kinds which were played during the Gurus timesa tanpurni, a taus and a joriwhich she practices daily.

At Solstices Siri Sevak Kaur has a few regular classes, all in the vein of bringing people along in their interest in Sikh Dharma. She teaches an All About Gurdwara class with the intention of making people who feel like outsiders in the Gurdwara into insiders. She teaches a class for Kundalini Yoga students where they read, write and meditate on Kundalini Yoga mantras in Gurmukhi. She teaches a class that allows people to read in the Akhand Path for a few minutes so they will feel confident to sign up for an hour slot, and she tells Sikh stories to children.

Siri Sevak Kaur lives at Guru Ram Das Ashram in Millis, Massachusetts, outside of Boston. Guru Ram Das Ashram, on 18 beautiful wooded acres, has daily sadhana, weekly Gurdwara, residential living space, guest space available by the day, week or month, and many wonderful classes, workshops and trainings available through Baba Siri Chand Yoga Center. Siri Sevak Kaur and Harbhajan Kaur teach ongoing classes in Gurmukhi and Gurbani.