2nd Annual Yoga Mela
(Gathering of Yogis) with Amandeep Singh, live in Espanola, NM
Guru Ram Das
The Throne of Raj Yog,
Lord of Miracles!

with Amandeep Singh

Feb. 17, Friday evening free in the Espanola Lungar Hall! 6:30 to 8 PM. Live in-person. Bring your sheepskin.

Course Weekend--Saturday & Sunday 9 AM to 6 PM, and Monday 9 AM to 2 PM
Feb. 18, 19, 20, in 2012

At Anthony's at the Delta, Espanola, NM (1/2 hour north of Santa Fe), our cozy yogi's hideaway.

Access to the Course Recordings and Documents on our Soul Answer Course Library is included!
For all levels of Yogic Practice--from beginner to "old-timers."
Live, In-Person in Espanola, NM * Recorded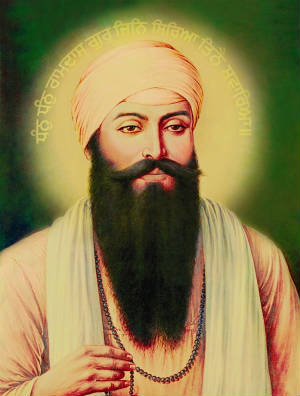 H A I L G U R U R A M D A S!
SHED YOUR TROUBLES at his feet, discover your most profound direction through shaky times, experience pure, loving support as you merge with his boundless healing heart. Guru Ram Das is the Lord of Miracles, and Yogi Bhajan's spirtual guide who sits on the throne of Raj Yog, the source of Kundalini Yoga. Allow yourself to be entirely protected, uplifted, prosperous, transformed and free with Guru Ram Das, our extraordinary and most accessible saint!
After much research and visiting ancient ashrams and studying in depth with the many yogic traditions in India, Amandeep Singh shares his research and discoveries:

How Kundalini Yoga also known as Raj Yoga began, its ancient history, evolution and its passage to the west, through the Master and the Mahan Tantric, Sri Singh Sahib Yogi Bhajan.

A life transforming retreat based on the teachings of Guru Ram Das - the Lord of Miracles, who is the personal Guru of Yogi Bhajan on the astral realm. In the words of Yogi Bhajan, "You want to see Guru Ram Das? Hail and He shall heal you and heal your surroundings, take care of your things, and square your accounts. It's a good Guru. He knows the business."

Hailed as the Royal Yogi of the Solar Dynasty he is known for his humility, compassion and healing. He holds the royal throne of Raj Yoga and guides humanity through his Subtle and Radiant bodies.

In service to the humanity, he established a universal centre of healing, Hari Mandir Sahib commonly known as the Golden Temple, with four doors welcoming everyone from the four corners of the world.

Come! Enter the realm of the mystic yogis to meditate, chant, sing and connect with the Aquarian Master – Guru Ram Das.

Drop the limitations imposed by the mind - Transform into vast energy fields - Develop every action into meditation - Walk the path of the Gurmukh Yogi.

This is an invitation from the ancient sages to the many seekers who are looking for Higher purpose in life, Healing, Prosperity, Peace, and transcendence into the Aquarian Age.

Transcend through:

- History and legends of Guru Ram Das
- Recognising the Transpersonal Self
- Awakening the Divine Guru Within
- Experiencing the state of "No-Mind" - Samadhi
- Kriyas, Meditations & Mantras of Guru Ram Das & Baba Sri Chand
- Dealing with relationships from the yogic point of view
- Understand the state Sehaj – Present moment in daily life
- Learn to access and balance the Psychic energy of the Chakras
- Golden Temple Healing Meditation and much more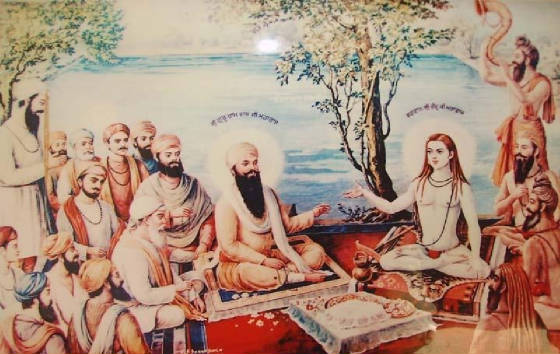 Guru Ram Das with Baba Siri Chand, each with their followers.

Click here to listen to the shabad (hymn) Raaj Jog Takhat Dee-an Gur Ram Das
Yogi Amandeep Singh MS.c(Aust), MA(UK), B.Sc Hons(UK) is a counsellor by profession and an accomplished yogi, having studied in depth many yogic traditions in India. He is a certified Kundalini Yoga Teacher, a scholar with Kundalini Research Institute of the USA, a KRI Professional Teacher Trainer, Healer and a teacher of Eastern Spirituality.

He brings great depth, accuracy, joy and spontaneity to his teaching of Kundalini Yoga. Being inspired by Yogi Bhajan, he travels around the world sharing the teachings of Kundalini Yoga. www.yogiamandeepsingh.com
From Siri-Gian Kaur:

Anyone who has attended any of Amandeep's courses—whether in person or in a telecourse knows just how very riveting and electric he is as a teacher!

The facts on the history of ancient Yoga and Sikh Dharma that he has researched and translated first-hand from the original Indian manuscripts pour from him in a continuous stream! He is so prolific, and he draws all of those disparate pieces together. When teaching a teleclass, he paused to ask if there were any questions, I found that I was actually in a trance!

His style is electric and he takes you deep—really deep! I never knew that so much noise—as he plays a recording of the gong, along with his blowing the conch and forcefully directing us through a meditation could bring such peace, such Union as we experienced in last year's Yogi Mela with Baba Siri Chand.

The mediations and kriyas that he teaches take you to amazing heights, while he plays the most extraordinary mantra music and shabads. This yearly event with Amandeep Singh will certainly carry you to places that you may rarely visit, but which raise you immeasurably. Not to be missed!

Schedule:

Mountain Time, USA. Click here to translate these times to your time zone.

Friday's live introductory class in the Lungar Hall is FREE. It will NOT be recorded.

The full Course is Sat., Sun., Mon. You need to register for the Course, which will be Live,and Recorded.
FREE CLASS

COURSE

Fri.

Sat.

Sun.

Mon.

Time

6:30 to 8 PM, Mountain Time, USA


9 AM to 6 PM

9 AM to 6 PM

9 AM to 2 PM

Location

Espanola Ashram Lungar Hall, which is next to the Gurdwara. Bring your sheepskin.

Anthony's

Anthony's

Anthony's

Media

Live

Live.
Recorded.

2 Different Ways
to take this amazing course on Sat., Sun. Mon.!

Choice #1--Live, in-person in Espanola, NM + Recordings

Choice #2--Recordings Only
CHOICE #1
LIVE, In-Person Course in Espanola, NM
+ RECORDINGS

LIVE, IN-PERSON!


When you are here with us in New Mexico, in our beautiful and snug yogi's hideway, you can really experience the amazingly strong vibe of Guru Ram Das as it permeates and raises the whole room! You can actually feel Amandeep Singh's strength and compassion as he teaches, ask him questions in the class, and chat with him personally when he isn't teaching. Plus share in the most cozy camraderie with the other yogis over the weekend as you make great friends of the heart in our Soul Answer Tribe--as many have done from last year's course!

RECORDINGS
This year only, as a wonderful free bonus for those who take the full course, you will receive access to the video recordings (viewed only on your computer), along with printable documents of the yoga kriyas and meditations. You will be getting information on how to access them a couple of weeks after the course. They will be on Soul Answer University's Course Library site. They won't be downloadable and will not be transferable to another person.
CEUs

Yoga teachers certified by IKYTA or any other yoga organization accredited by the Yoga Alliance will receive 20 CEUs (Continuing Education Credits) for participation in the full course. No credits for partial participation.
| | | |
| --- | --- | --- |
| Enter your own registration choices after you click this button, such as: full course, one day, fire ceremony only, student or senior discount, etc. | Register for the Live, In-Person Course + Recordings | Continue your very deep experience at home with the video recordings. |
You can begin your registration right now, and make time payments according to your own schedule! Your minimum first payment is $50 and all must be paid by the beginning of the course. Your tuition can be refunded minus a $25 cancellation fee until Feb. 1. After that, your tuition is not refundable. All these tuition prices are subject to 6.5% New Mexico tax.

The full course includes 2 1/2 days plus 3 lunches. Single day tuition includes lunch, but half days do not include lunch. Friday evening class in the Gurdwara is FREE to everyone. During your registration process, you can choose the full course or any part of it you like. But certainly you get the best "juice" with the full course!
| | | | |
| --- | --- | --- | --- |
| Course Registration | Whole Course | One Whole Day | Half Day |
| Regular Rate | $336 | $150 | $82 |
| Payment at the Course, Sat, Sun, Mon. | $361 | $160 | $88 |
| 3 Breakfasts at the Nivas | $30 | ------ | ------ |
Information on Housing, Meals, Directions to the Course, and Travel, please click here.
Special Registrations

Fire Ceremony Only

Sun, Feb. 19, from 2 to 3:45 PM

$35

Student Discount. Bring your student ID card to the course

12% off your tuition

Enter the code"Student" when registering

Senior Discount for those 62 or older. Bring your photo ID that shows your birthdate.

12% off your tuition.
Enter the code "Senior" when registering.

CHOICE #2
RECORDINGS ONLY
You can get just the video Recordings and documents of the kriyas and meditations of this incredible course if you like, without participating in real time. Once you register for this course, you will be taken to a page that has your information to access this course on the Soul Answer University Course Library site. BE SURE TO BOOKMARK THAT PAGE so you can find it again, or print out your access information.
Then a couple of weeks after the live course, the recordings and documents will show up on the Course Library site. You can view these recordings as often as you like on your own computer and print the documents. And since this course takes you directly to Guru Ram Das, we are trusting you to not share the recordings with any other person, but you can suggest that they get access to their own by registering on this page.
TUITION
Tuition for this wonderful self-study course is $290. Tax of 6.5% is only charged to NM residents.
CEUs
If you are a yoga teacher certified by IKYTA or any other yoga organization that is affiliated with the Yoga Alliance, you can earn 20 CEUs (Continuing Education Credits) by taking the entire course as self-study, and passing a 20 question test that is on the same page as the recordings. Great fun and easy!
| | | |
| --- | --- | --- |
| Register for Recordings and Documents Only | | |

Live-Streaming
This is viewing the course in "real time," that is participtating by seeing and hearing the course as on TV, but on your computer screen while the actual course is going on. Since this is our first attempt at live-streaming, we cannot guarantee the broadcast quality. You also get access to the course recordings and documents. The tuition is non-refunable. We would love to have you join us!
1st Annual Yogi Mela 2011

Amandeep Singh led us to Baba Siri Chand!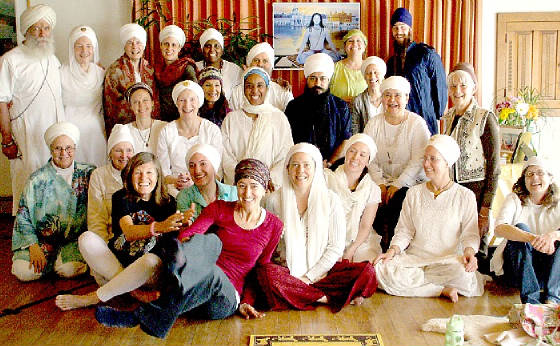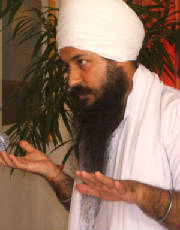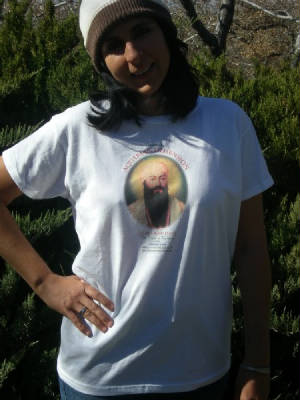 Get your very own Event T-Shirt
"Guru Ram Das--
The Throne of Raj Yog!"
We have them in sizes small to x-large, short and long sleeve, beautiful white cotton, and some especially to fit women.
To find out more about them and to order your own, please click here.